BOTAFOGO-PB 2 x 3 CAMPINENSE
The video cannot be shown at the moment. Please try again later.
Pré-Jogo
Campinense já na decisão viajava a João Pessoa para enfrentar o time da capital. O Botafogo se classificou em último e tem apresentado um contestado futebol, precisou da ajuda do seu rival Auto Esporte para passar de fase e agora procurava crescer para passar pelo favorito de Campina Grande.
Taticamente Falando
O Campinense teve de mudar seu estilo de jogo, foi pra campo com um 3-5-2, diferente de seu habitual 4-4-2. Dessa forma a equipe se postou melhor e a defesa acabou falhando menos, Breno e Ben-Hur foram os zagueiros de lado e Diego Padilha ficou na sobra, às vezes podendo sair com a bola e atuar como volante. Os alas jogaram muito na frente apoiando o tempo todo, mas mostraram pouca força defensiva, talvez por isso o esquema com 3 zagueiros. Charles Wagner e Anderson Paulista de volantes que saiam para o jogo compunham o meio campo com Adriano Felício, que só joga com a bola e pouco marcou. Na frente Warley de centroavante e Potita às vezes aberto às vezes mais próximo de Warley, Potita teve um bom papel defensivo, sempre voltando para acompanhar as subidas do lateral esquerdo. O Botafogo veio com um 4-4-2 Losango: Joílson, Henrique, Rogério e Adriano formavam a linha defensiva. Diego jogou de primeiro volante e fez bem seu papel, mais a frente Nino e Izaías fechavam bem o meio campo. Izaías pra mim um dos grandes destaques, pois jogavam em todos os lados do campo, com a bola e sem a bola. Leomir fazendo a função de camisa 10, mas não produziu muito, na frente dois centroavantes: O esforçado Jales e Elivelto. O Botafogo também teve alguns desfalques, mas continuou no seu modo de jogar.
Primeiro Tempo
A premissa era interessante, mas o campo não ajudou muito. De longe dá pra ver claramente que o gramado do Almeidão, outrora um dos melhores do Brasil, é completamente improprio para prática de futebol. As equipes passaram muito tempo se estudando e o jogo começou bem truncado, mas a dificuldade de jogar do Botafogo estava bastante clara. O Campinense fez o bom Genivaldo mostrar serviço num chute de fora da área, mas só aos 10. Aos 14 Izaias deixou Elivelto frente a frente, mas este desperdiçou.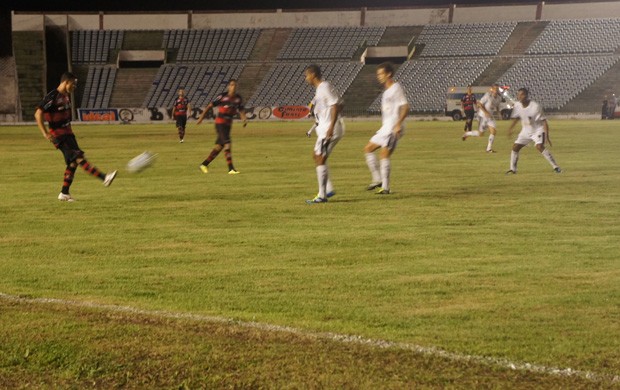 *Foto: Larissa Keren
O Botafogo no coração começa a atacar mais, porém sem efetividade a maioria com chutes de longe e o Campinense não conseguia sair, até que num lance bobo o goleiro Pantera teve de sair da área e errou o cabeceio, mas Jales só alcançou a bola sem angulo Breno cortou. O Botafogo foi se atrevendo e deixando a fraca defesa aberta, foi aí que a Raposa abriu o marcador, aos 30 Warley recebeu a bola na entrada da área, invadiu-a, fintou o defensor que o acompanhava e de perna esquerda colocou no cantinho de Genivaldo, Golaço e 1 a 0. Pouco depois Pantera quase entregou o ouro, Joílson cobrou escanteio e o arqueiro raposeiro tentou jogar para escanteio e acertou a trave. Fim de Papo
Etapa Final
Precisando o Botafogo mudou, colocou os atacantes Claudio e Yla nos lugares do também atacante Elivelto e do volante Diego. O Botafogo jogou num 4-3-3 com Cláudio voltando para ajudar na marcação quando pode. O Campinense mudou na defesa, Diego Padilha passou de líbero para lateral direito e a defesa fechou com 4. O meio campo virou Losango também, com Totonho de volante pela direita, mas sempre subindo. A partida ficou mais aberta e deu margem para mais erros da defesa. Aos 14, cruzamento da esquerda, nenhum zagueiro corta e Warley domina sozinho e só escora, 2 a 0 Raposa em cima do Belo. Parecia que viraria goleada, mas não deu um minuto e Jales marcou um golaço: Recebeu na entrada da área e ao estilo Kaká acertou o angulo esquerdo do goleiro Pantera, 2 a 1, para incendiar a torcida alvinegra.

*Foto: Larissa Keren
O Botafogo cresce mais no coração que na técnica e esteve próximo de empatar se não fosse o arqueiro Pantera, porém aos 26 uma falta da entrada da área, e o então criticado Renatinho chutou entre a barreira, mal colocado Genívaldo não pode fazer nada, 3 a 1. O jogo fica mais pegado, e o Botafogo conseguiu achar um gol no belo chute de Izaias de fora da área. O Botafogo ainda teve boas chances que foram paradas por Pantera ou foram parar longe do gol, fim de papo Campinense 3 a 2 fora de casa.
Fim de Papo
O Resultado deixa a Raposa Feroz próxima da decisão de turno que, tendo a vantagem de dois resultados iguais o Campinense pode até perder por um gol e passará a final. Cabe ao Botafogo reverter à situação em Campina Grande. Na outra partida o Sousa em casa venceu o poderoso Treze por 2 a 0 e tem boas possibilidades de passar, mas nada está definido.
Siga @futeblog_y33